Visible Body


on Ovid
Visible Body is a suite of online programs that cover anatomy, physiology, muscles, the skeleton, and the circulatory system through interactive 3D models, animations, quizzes, augmented reality, and more.
More info
Request a Free Trial for your Institution
Visible Body® on Ovid®
Whether you support clinicians, faculty, students, or medical device R&D, Ovid offers flexible subscription and purchasing options to allow you to customize to meet your specific needs. Plus, each program offers a mobile app. Most apps are available for iPad® and/or iPhone® and many are available for Android™ devices.
---
Why Visible Body on Ovid?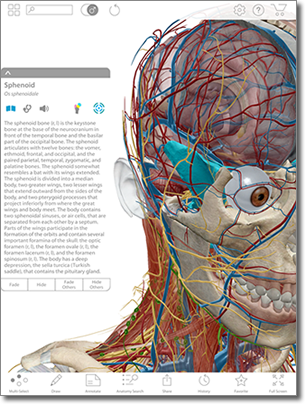 Essential Anatomy Resources
3D anatomy visualization resources used to interact and explore the human body
Specialty Modules
Speciality modules developed according to your needs
Visible Body® Human Anatomy Atlas with Augmented Reality
Interactive 3D visuals turn any room into an anatomy lab.
Augmented Reality in Human Anatomy Atlas 2018 creates a transformative learning experience that enables users to visualize gross anatomy and microanatomy as they would in a lab room with cadavers or specimens.
With the Visible Body app for iPhone® and iPad®, users can place a virtual human organ or complete human body on any flat surface and use their devices as a viewing window to identify and virtually dissect anatomy.
• Compatible with any iPhone 6s or later, iPhone SE, iPad Pro, or iPad (5th generation or later) running iOS™, Version 11
• Transforms any room into a completely outfitted anatomy lab with thousands of virtual specimens
• Offers gross anatomy and microanatomy views from any angle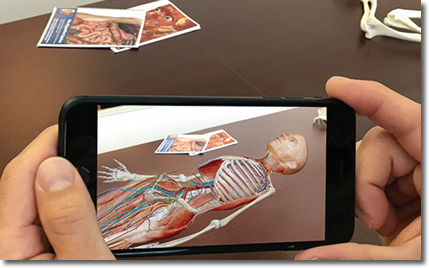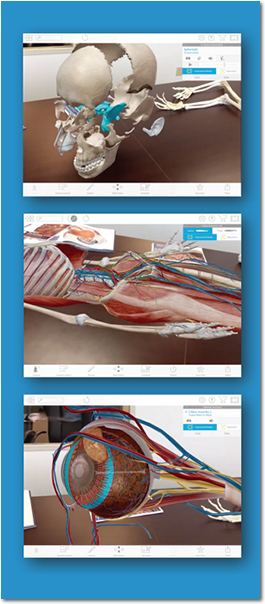 Even more content added to this enormous 3D anatomy database:
• NEW gross anatomy views include enhanced male and female skin models, revised hand anatomy, refined female genitalia, additional hip circulation, and new sagittal and coronal views of the skull.
• NEW microanatomy views include a cross-section of a long bone, an osteon, blood vessels, a nephron, a simplified nephron, alveoli, and alveolar sacs.
• NEW gross anatomy lab experience enables dissection of virtual cadavers in the prone or supine position.
• 3D dental anatomy views include cusps, fossae, and surfaces; cross-sectional views of an incisor, canine, premolar, double root molar, and triple root molar; and an interactive, animated model of the upper and lower arches.
New features! Get to the content you need, fast!
Enhanced, efficient, and easier to use
• Quickly customize a view by adding or subtracting anatomy by system and/or region with an updated Systems Tray.
• Find what you're looking for fast with Fade, Hide, and advanced Select Others options.
• Remove structures and reveal underlying anatomy with a tap using the new Dissection tool.
• Explore at your leisure without losing your place with a new isolation mode that saves and restores the current view.
Tutorials
Filter the videos by the following categories